Sorry John, I dont have grad pictures but I'm organising for my mum to send me some. I thought an update would be just as good though.
Well first full-time job and it's go go go. Seem to be at work for a fair chunk of the day but I'm really enjoying it, can't complain one bit. It's quite a young newsroom, and everyone is great to get along with. Our COS is exceptionally fantastic, editor is good and general manager alright, except for his love for the Richmond Football Club.
Bundaberg as a town is pretty boring, but most of the people are great to get along with, and with the friends I've made up here in the newsroom, you make a lot of your own fun. Plus Bargara (10 mins down the road) is close and fun for a swim/lunch/whatever.
I was doing news mon to thurs with sport on friday, but the last fortnight has seen me do sport full-time. Which is good in a way, I've made a heap of contacts, but looking forward to getting back into the news next week!
Ok so here's me enjoying a beer at our Christmas party, with our production editor Sean Atkins, and his wife whose name I've forgotten half chopped out for some reason (stupid computers). Sean's tops, he's English, speaks funnny and supports losing football teams.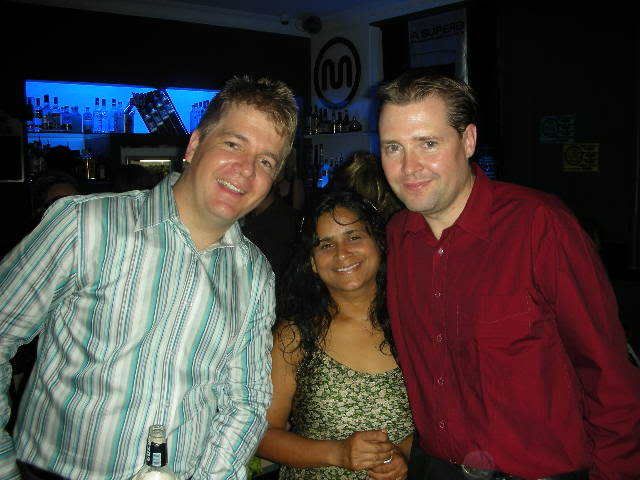 Bye all!