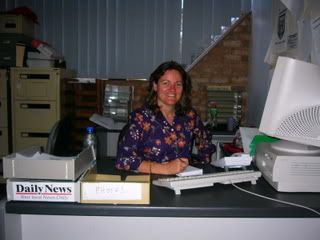 ">Day One 18/9
I have enjoyed a great weekend in the region trying to get acquainted with the locals and the region including going to a local historic racing festival where I interviewed a couple of the drivers.
This office is smaller than during my last intern and with that also friendlier. Surprisingly this time most of the journalists are middle-aged. Apparently many of them have been here for many years.
They have a really antiquated computer system here called Decade; I think it must have been designed at least a decade ago.
The chief of staff reminds me more of a front-row footballer and the editor seems quite approachable.
Here we do have a morning conference where new ideas and upcoming stories are discussed. When they mentioned they could do with another car racing story I piped up with my effort. It probably would have got a run had it not been for a bus crash; still it was good to turn up day one with something already written.
The editor mentions that he wants more people profile stories so I start thinking about some possible ideas.
Everything seems pretty casual and laid-back and not too stressful.
I'm just starting to visualise myself working here when I am passed a memo discussing the previous week's sackings. Apparently four journalists and six production people were axed. Maybe they won't be putting on any new staff!!
I get to go out to do a vox pop (I don't mind these) and also talk to a newsagent owner who has just sold a division one lotto ticket worth 1.83 million which no one has claimed. You wouldn't believe it – it is in the little village where I am staying and right next to my motel. On the weekend I thought about buying one but that is as far as it got. Looks like I can't retire just yet.
Did a couple of news briefs, typed up the tide times and that was day number one.
Day Two 19/9
A pretty cruisy day. Get to go out again, back to the newsagency who has found their winner. It's a kick butt bikey dude, I didn't bother asking for any handouts from him! Actually he was quite a character so was easy to interview. The young cadet here also went along and I think she wants the story for herself for more publications. I did my own anyway and submitted it. Will be interesting to see which one gets published.
Also finished a story regarding the Australian Walk of Fame which is located down here. I rang the organiser who told me who is about to get inducted. It's a pretty impressive list which includes Bill Brown (captain of Sir Donald Bradman), Kieran Perkins, David Helfgott, Brian Cadd, the Billabong founder and that Larry guy that does "The Price is Right" (not sure why he is in there?).
This afternoon they haven't given me anything to do so I have thought up my own person profile. I have found the founder of the Red Hat Society who has started a local branch here a month ago. They are such an interesting bunch. If you have two secs look them up. www.redhatsociety.com. Desley it is soooooo you!
Day Three 20/9
Last night I looked up Hansard knowing that the NSW Parliament had sat the day before. I scoured through the reading to find anything relevant to the region.
I also checked out the local council site to see if anything was cooking there. To my surprise the editor wasn't interested in any "dry" type stories. The paper, which is struggling with circulation, is trying hard to connect with its clients and therefore localize and personalize its stories. They seem to love people profiles, local sports, pretty much all the soft news stuff. I guess it's a strategy a lot of the small papers are taking; perhaps it's not much use trying to take on the big boys.
I wasn't given much to work with today so I figured I'd come up with my own story. Loved the multiple occupancy 'hippy' story I did on the last intern so pursued that one done here. They have around 120 of these communes in the region so it didn't take too long to find a spokesperson and a few real estate agents. Such interesting stuff.
Day Four 21/9
Today my van blew up just as my friend who dropped me off was leaving. Buggar. Had to get it to a mechanic and muck around a bit so I missed a potential story. Never mind.
Did get to out again and interview a couple of girls who through Rotary are going from 'beach to bush' – 1700 km's in fact to see how they live in the outback and more importantly, see how they conserve their water.
A photographer wasn't able to come so I had my turn in taking shots. I got them down on the beach and got a couple of good ones.
I asked one of the sub-editors if I could watch what they did for a little while. She was putting together a couple of the pages of the junior sports, dealing with pictures, copy etc. Was quite interesting how quickly the page could be formed.
Still can't get onto the red hat society woman, shall try again tomorrow.
Day Five 22/9
Last day. This morning I asked the sports writer if I could have a go at a sports article. He ended up giving me a story although it was really more of a person profile than anything much to do with sport. Still it should get a run next week so I am not complaining.
The red hat lady emailed me back. Next week when I am back at college I will interview her over the phone. Need to get as many articles published as possible.
Just starting to feel like I am getting to know some of the staff and that I'm being trusted to go out and do my own stories. Been a great week, but another week here would have been beneficial. Think I will try to come back when the course finishes in a month's time.
It's been interesting how many staff have mentioned that while they like their job they are really over the lack of pay, with a couple seriously looking at other options. One person had been a journalist for years but in the end gave it up due to money and now is in the sales department.
I can see that it is possibly something you can't afford to do for ever but am keen to definitely get a few years of pleasure out of it.
Finally, I able to pin down the editor for an interview. He is an interesting and quite candid with his comments. I didn't feel intimidated at all. It is a great opportunity, albeit disguised as an assignment, to really find out what an editor thinks and at the same time expose your own interviewing abilities and I guess a sense of yourself.
Well that's it for the week. Would definitely like to get a job here! Guess I will just keep hassling and come down and spend the odd day here. They seemed pretty open to that suggestion.
Spent the weekend boating up the river, walking, beaching and checking out the region further. No use in blasting straight back to Brisbane. Invited myself up to the 'commune' to take some shots and talk a bit more. Will send that story off this week as well.
Signing out until next time. See you all back in class.